Bathrooms are often the smallest rooms in the home. That's why you need to make them feel bigger and more spacious. Throwing down a big rug, installing a new fixture, and adding a decorative piece will give your bathroom a much-needed boost. From installing the smallest vanity sink unit, painting the walls with bright colour, and fitting smaller straight baths and toilets, there's no shortage of ideas. In this post, we are going to provide you with 5 tips to make your small bathroom look and feel bigger.
Idea 1. Use Space Saving Bathroom Fittings and Fixtures
If your bathroom is small, then you should try cutting downsize of the bathroom fittings and fixtures in every possible way. It is no rocket science to understand that the baths, toilets, and showers designed for a standard bathroom may be too big for your small space.
So, what can be an alternative to it? Simple bathroom fittings and fixtures that are designed to fit into a small space. And you should not have any problem finding it as the baths, toilets, showers, and other things are available in various sizes and colours. All you need to do is the smallest possible sizes for your small bathroom. Many online bathroom retailers have designated categories for the smallest fixtures that you will find in the cloakroom section. The cloakroom toilet or sink vanity units may be the smallest option available. However, you should decide the size based on the available space in your bathroom.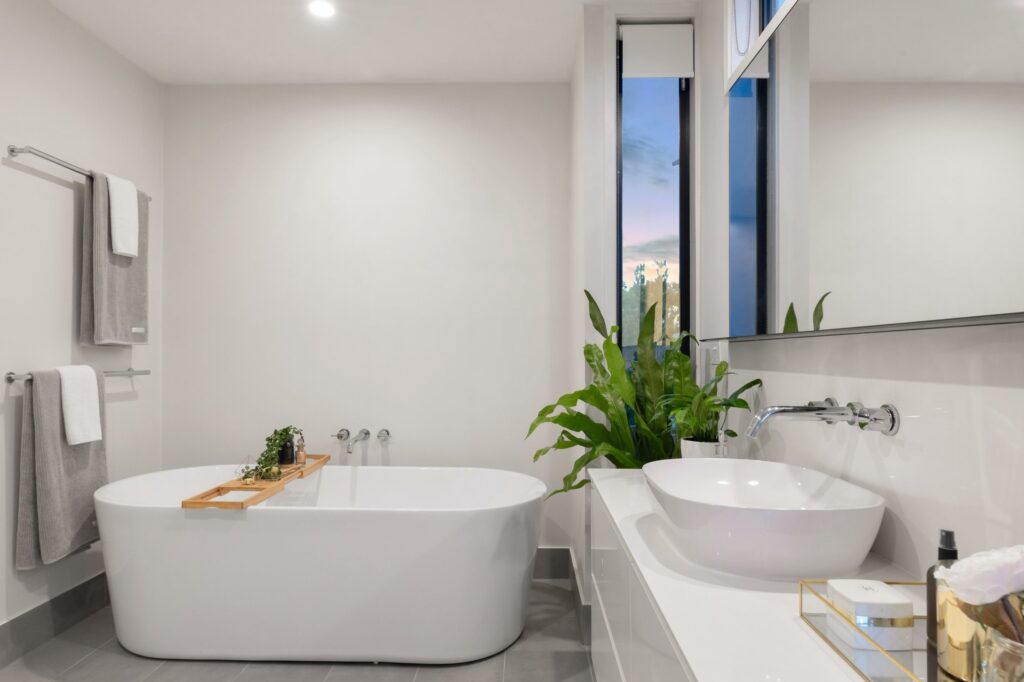 ---
Install Space Saving Toilet. If you want to save space on the toilet, then you will need to look for the smallest option available both in size and type. For example, the smallest option that will let you save space can be a short projection toilet pan. It is the same as the standard toilet pan but with a bit lower dimensions.
It makes it easily fit even in the smallest spaces. A second consideration is the choice of toilet type. The best option is a wall-hung or wall-mounted toilet that directly fits on the wall. Due to its fitting, the space underneath the toilet pan remains empty, giving a sense of spaciousness in the bathroom.
Alternative to it can be a back to wall toilet that has its cistern hidden either inside the wall or a WC toilet unit.
Install Smallest Bathtub. The bathtub may not be an option for you in the case of a cloakroom or very small bathroom. The standard straight bathtub in the UK has 1700mm in length and 700mm in width. But you need to have the smallest option available, which may be the 1400mm long straight bathtub.
But if you have ultra-small straight bathtub requirements, you may find any round or oval-shaped bath requiring less space.
Saving Space in the Shower. A simple shower is often a suitable choice. But if you want a shower enclosure, then you will need to consider the space-saving options only. For example, a quadrant shower enclosure with a sliding or bifold door can offer you a saving of space. It is available in 800mm size.
Alternatively, a walk-in shower enclosure of the same size can be an even better option. It creates an open feel and modern look that is great for congested spaces. You may even convert a Straight bathtub space into a walk-in shower.
Idea 2. Fit The Bathroom Fittings and Fixtures in the Right Position.
Getting the fittings and fixtures is not enough. You will also need to fit them in the right position. For example, your toilet, a sink, or a shower enclosure can fit into the bathroom corners. It can be a suitable space because, in most bathrooms, unused space goes to waste. So, make use of it and enjoy incredible space-saving benefits.
Idea 3. Make Your Space Clutter Free.
Naturally, look congested if it is full of clutter. It is important to keep all the items at a designated place. For example, installing a vanity unit can be a good solution to keep all essentials hidden from the eyes and in a safe space. Alternatively, you can fit a shelf, an organizer, or any similar type of storage solution to organise.
Idea 4. Use Lighting and Bright Color.
Your space will look too congested if you use dark colors. Therefore, you will need to use a bright color on the walls and bathroom fittings that can reflect the light. It will create a sense of spaciousness even in a small space.
For example, shades like white, blue, pink, cream, and light brown are perfect for this purpose. In addition, you should also make perfect use of lightning to enhance the looks. The clever use of lights on the vanity, near the mirror, or in the middle will help your bathroom look better.
Idea 5. Use Large Tiles
If you are using tiles in the bathroom, then it will be advisable to prefer larger tiles over smaller ones. It will make your bathroom look and feel bigger. It is because there will be fewer grout lines that will make tiles appear more seamless. You may even use a giant tile slab to make it work even better. In addition, you should keep the same tiles on the floor, and the walls in different or contrasting styles or colors will make the small space feel congested.
Final thoughts
small bathroom can be a challenge to decorate. It's too small to have a large mirror, and it's also too small to have a lot of large furniture. However, with proper planning and choosing your bathroom fitting and fixture like straight bath, colors and tiles wisely, you can make a lot of difference in making your small bathroom look spacious.